The Ka'iwi Channel Swim is just a month away
. I thought we would see a lot of broken teams and unfulfilled dreams when this race got under way but I wasn't expecting so much of it before hand.
We got a lot of enthusiastic response from the start but so many (even after they registered) have dropped out. The reality of putting a team together for this insane endurance swim is daunting. Local teams have it a bit easier while those from the mainland and around the world have been struggling. All of those who make it to the starting line should be proud for stepping up to the challenge and having the tenacity to work through all the details.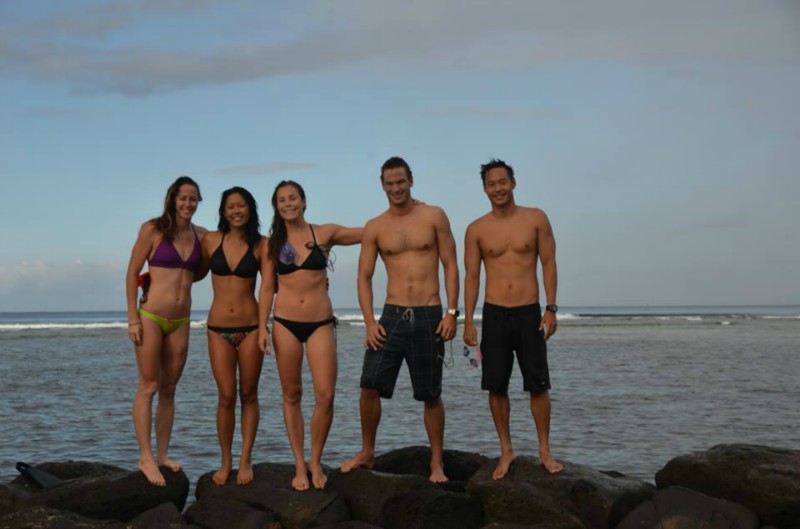 -left to right Leane (our escort), Erin, Alli, Pepper, Terence
 We originally thought we would close registration at this point but with so many struggling to put a team together, we will keep registration open till one week before the race. So don't give up yet. And if you are a lone swimmer looking for a team, please send me an email -
kozhawaii@gmail.com
.
Here's what Team Terence sent me. They got all the details worked out and will be at the starting line on August 24. Check back later in the week for more team profiles.
(
While I'm thinking of it - name your teams! Or I'll just be using the name of whoever registered.)
Pepper
stays suga' free as Mr. April in the 2013 Hottest Firefighters of Hawaii calendar (he's saved many kittens from various mango trees). As a nod to his respected waterman reputation and purebred heritage, he has earned the nickname 'Flying Dutchman' by holding the record in both San Diego and Honolulu Counties for the lifeguard run-swim test, and paddle-boarding to victory in his 2012 Molokai Channel crossing. Though his swimming stroke needs little help, you can find him avidly practicing a different stroke… on the golf course, where Pepper recently made his first hole in one and aspires to one day win his first gold—or green—jacket. Pepper, a UC San Diego alum, is the beauty, the beast, and the baker of the team; ask him for his legendary scone recipes! Pepper has no trouble finding a little hawaiian sea salt to shake it with.
Erin
is a sista' with loose hamstrings and a tight grip on local produce. She serves with her Master's in Social Work by heart, teaches yoga by trade, and practices gratefulness by choice. She owes her endurance to UC Santa Barbara Swimming as a Former All-time Gaucho Great, where she is quite proud to still hold down her pace and booze. Good luck to her finishing this race without ridiculous cap and goggle tan lines!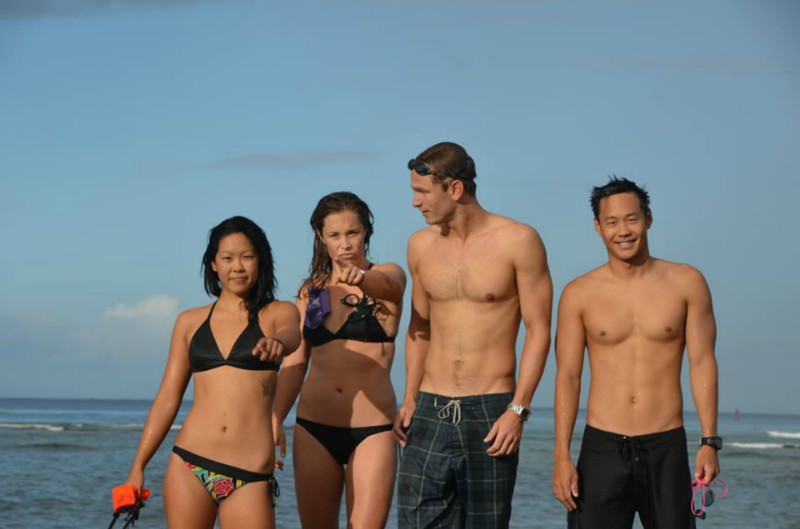 Alli
: This organic girl reigns from Humboldt Country California where she shares her delightfully fresh views on loving life and laughing hard. Alli successfully represented San Jose State Swimming, racing breaststroke & IM, and as team captain for two years! She's putting her Master's in Travel Industry Management to work by paddling in the ocean and working beside delicious, local ingredients at the hot spot restaurant, Town. Gooo Granola!
Terence
is a Hawaii Pacific Health hospital manager by day, VIP by night. Even though Terence grew up in Honolulu, he adds more heat to the team from University of Miami Swimming. Terence has a knack for attracting popularity to his gentle soul and baller status. Also, Terence loves animals. He donates lots of money to saving all types of animals including, but not limited to: dolphins, whales, koalas, pandas, lions, tigers, elephants, giraffes, dogs, birds, hamsters, turtles, rhinoceros', hippopotamus', monkeys, wallabies, wombats, kangaroos, sea lions, seals, and bears. Terence is our motivating team captain and responsible for providing ginger and Dramamine for this race.
Courtney
's motto comes from a little fishie named Nemo. "Just keep swimming. Just keep swimming." Y'all better recognize when this full-time yoga instructor is up to a good challenge. Her motto can be easily switched to "just keep biking" or "just keep running," as this lovely lady, originally from Texas, has completed an Ironman Triathlon, among other athletic endeavors. She credits yoga for her sharp mental game, ability to stay present, and for the strength and stamina to keep on going. Courtney is currently enrolled in the California College of Ayurveda, meaning the team is lucky to have someone in tune with आयुर्वेद life-knowledge and alternative medicine. Courtney's plan on August 24 is to, "breathe, smile and have fun," spoken like a true yogi!
Jamison
: Don't let his sun bleached hair and surfer stride fool you, Jaime is hard at work for NOAA, and is preparing to defend his Doctorate in Oceanography from UH later this year. This Pisces played water polo growing up in San Diego, and at
UC Santa Barbara. He also life guarded as the stud he is, in Ocean Beach, for many endless summers. Jaime has witnessed life underwater like none of us have (just ask him about coral restoration, plate tectonics, or any marine organism) he'll blow you away with his charm, wit, and brilliance!